Making Peach Preserves with Rum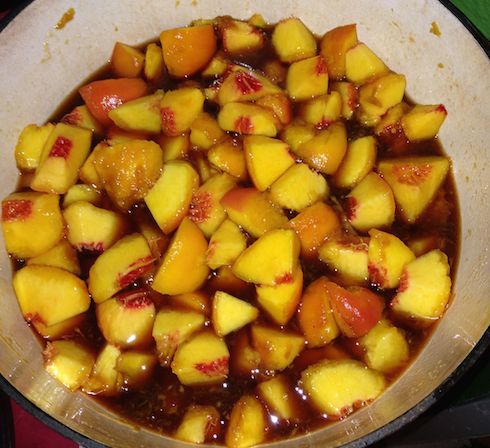 I am a purist. I like things to be simple, easy to work with, easy to reproduce, and always tasty. My wife on the other hand likes to experiment a bit more. Given that aspect of her personality, she decided to try to add rum to our peach preserves.
Why rum?
Simple: It's tasty. It is really the only hard liquir that we use in our home made goods: Vanilla, cleaners, and now peach preserves. Our first attempt though did not turn out as well as expected. There was in fact too much experimentation and not enough experience.
Enter the Internet
Ah, that ever changing landscape of accumulated human knowledge (30% cat videos). Heather found what seemed like a fantastic recipe for making preserves with rum. I tried it this weekend, and it was AMAZING!!! Not quite the consistency we were expecting, and yet delicious.
For those that are curious, you will find the recipe here:
What's next?
Peaches are winding down, and we just traded out some of our Strawberry Jam for Appricot. I know we wanted to try combining Jalapenos with some stone fruit. I also know Heather wants me to can some of my Salsa. I've never tried canning it before, so that will be entertaining.